Laguna Niguel Black U-Shaped Transitional Kitchen Remodel with Custom Cabinets
Laguna Niguel Black U-Shaped Transitional Kitchen Remodel with Custom Cabinets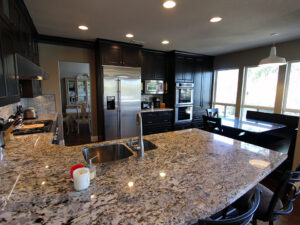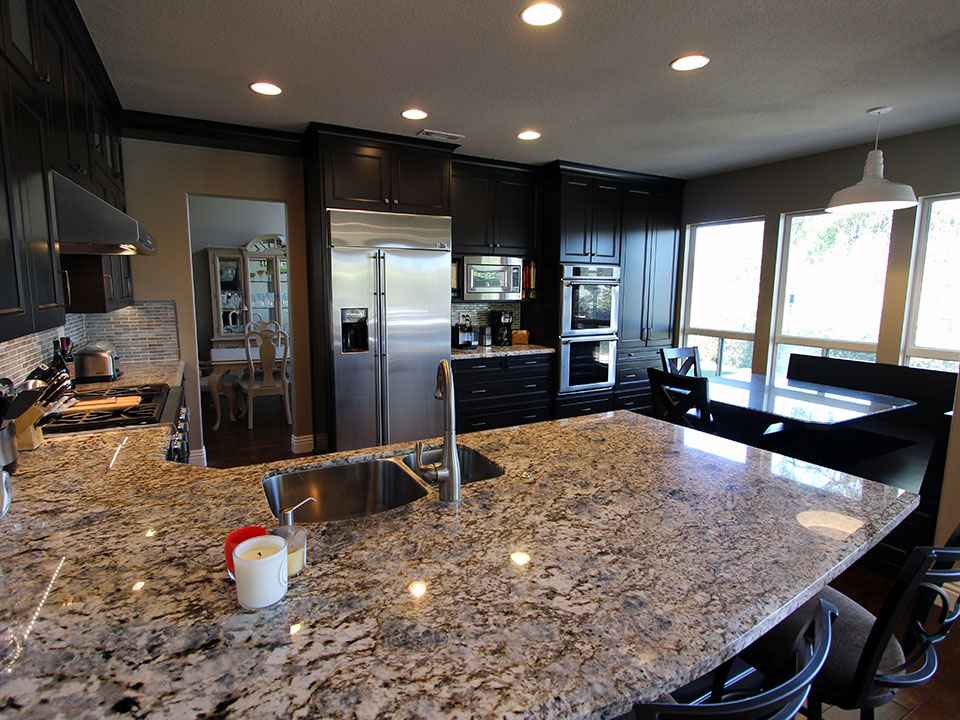 A Laguna Niguel household was in sore need of a little updating. With our help, the owners were able to accent their home with transitional details that instantly freshened things up.
Before
Originally, the nondescript kitchen lacked adequate storage space. With only a few standard cabinets and drawers, there was no way it could store enough food, cooking equipment, and dishes in what is a rather small area. We were tasked with maximizing the kitchen's functionality by smartly installing custom storage solutions and revamping the layout, all effectively making the kitchen feel larger.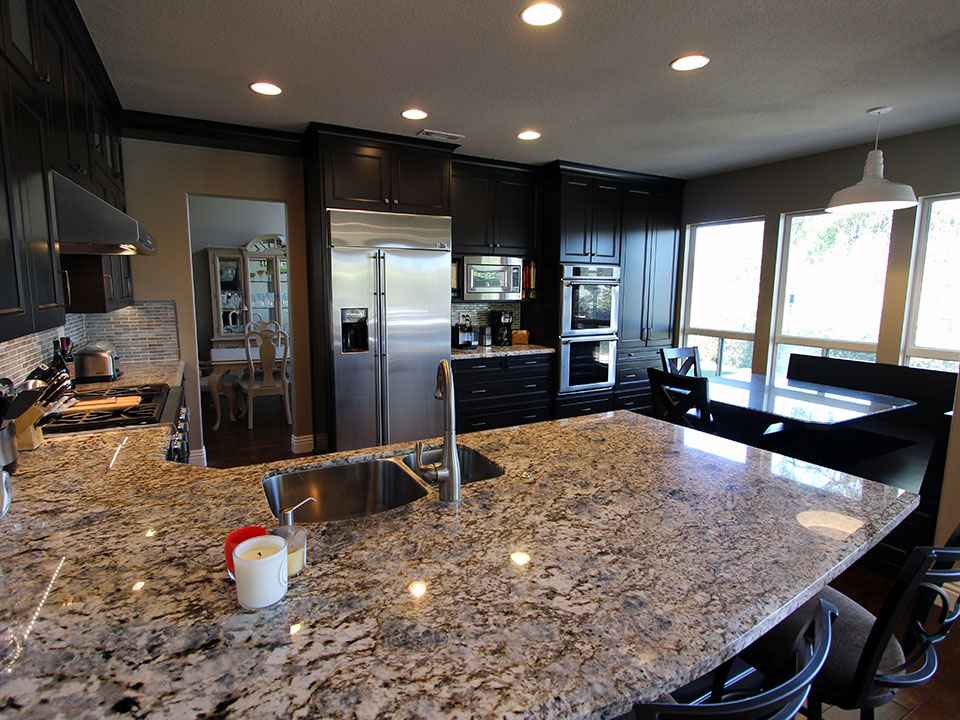 Restructuring
We started the renovation by installing brand new hardwood floors from California Classics' Pacific Treasures collection, choosing planks in a rustic, warm brown finish. The flooring was extended out into the living room.
The cabinets were rebuilt in an asymmetrical U-shape, with one side extending all the way along the kitchen's far wall, and the other side ending at half the length to create a bar for casual dining. They were constructed in a Euro & Face frame face style, with Tuscan doors, out of authentic maple wood. To create a sleek, sophisticated look, the cabinets were given a Dark Manganese finish, both on the exterior and the hard-rock melamine interiors. Light rails were installed hidden behind the cabinet doors, providing helpful illumination of the counter space. We added finishing details to the top cabinets with glass panel inserts and a 3-1/2" Cove Crown with a Beaded Sub Crown moulding. This moulding extends over the back doorway to unite the cabinets on the kitchen's adjacent side. On the far side of the kitchen, we built a corner bench in matching wood, providing yet another stylish and casual dining place.
Once the base cabinet structures were complete, we installed granite countertops from Bedrosians in a finish called "Blue Flower", a cool speckled gray stone slab with 1 ½" Navid edges. Between the upper and lower cabinets, we put in a full-height backsplash of "Shimmer Azul" tiles from one of our most popular suppliers, Arizona Tiles. These glistening glass tiles add a touch of glamour to the space.
Appliances
In keeping with the streamlined, transitional theme of the new kitchen, the homeowners chose to go with all stainless steel appliances, almost all selected from Thermador's premium collections. Along the center wall of the kitchen was installed a Professional Series Wall Hood over a Professional Series 36" Gas-Range Cooktop. To the left is a Star Sapphire Series Dishwasher, and on the kitchen's opposite side are Masterpiece 30" Double Ovens and a GE Monogram Microwave Oven, augmented with a matching GE Microwave Trim.
Fireplace & Entry
To make sure that the rest of the home matched the newly stylized kitchen, we revamped other spaces too, like the fireplace. It was faced with Gold Nugget Spark Stone tiles in narrow ledger panels, and set with a contemporary floating shelf. The entryway was also set with tiles from this line, in custom square and diamond patterning.
Bathroom
The bathroom features the same fireplace & entry tiles on its floor, albeit in large, traditional squares. We also installed new cabinetry and a countertop, all matching the materials used in the kitchen.
Do you have a home in Laguna Niguel or another Orange County neighborhood that is in need of renovation? APlus Home Improvement is one of Southern California's leading home contractors, having completed hundreds of masterful kitchen, bathroom, and full-home renovations throughout the area. Contact us today to get a quote for your project!