Design Build Modern Transitional White Kitchen Remodel in Lake Forest Orange County
Design Build Modern Transitional White Kitchen Remodel in Lake Forest Orange County
Our latest kitchen remodel in Lake Forest, California is a timeless combination that never goes out of style: the pairing of white and natural oak. The combination exudes a sense of timeless elegance and warmth. The crisp, clean look of white provides a neutral backdrop that allows the beauty of natural oak to shine through. The warm, earthy tones of oak add depth and character to the space, creating a harmonious balance that is both inviting and sophisticated. The white quartz countertops complement the natural oak, creating a cohesive and visually appealing look. Additionally, the stainless steel appliances provide a modern touch that complements the classic color scheme.
A well-designed kitchen should not only look beautiful but also be highly functional. Incorporating clever storage solutions can help keep your kitchen organized and clutter-free. We customized this kitchen with features such as deep drawers, a built-in spice rack and two appliance garages to optimize space utilization. Additionally, the kitchen island serves as a multifunctional centerpiece with built-in storage and extra counter space and seating options. The lowered counter creates a seamless transition from the cooking and prep area to the seating space. It is a versatile and functional design that not only serves as a central hub for food preparation, but also provides a cozy spot for casual dining, socializing, or even working.
Our clients opted for Thermador appliances. Thermador has a long history of producing appliances that combine cutting-edge technology with elegant design. The brand is renowned for its commitment to performance, reliability, and culinary excellence. Our clients selected a professional-style range, panel-ready built-in refrigerator, a built-in wine cooler with a glass door, a stainless dishwasher, and a microwave drawer.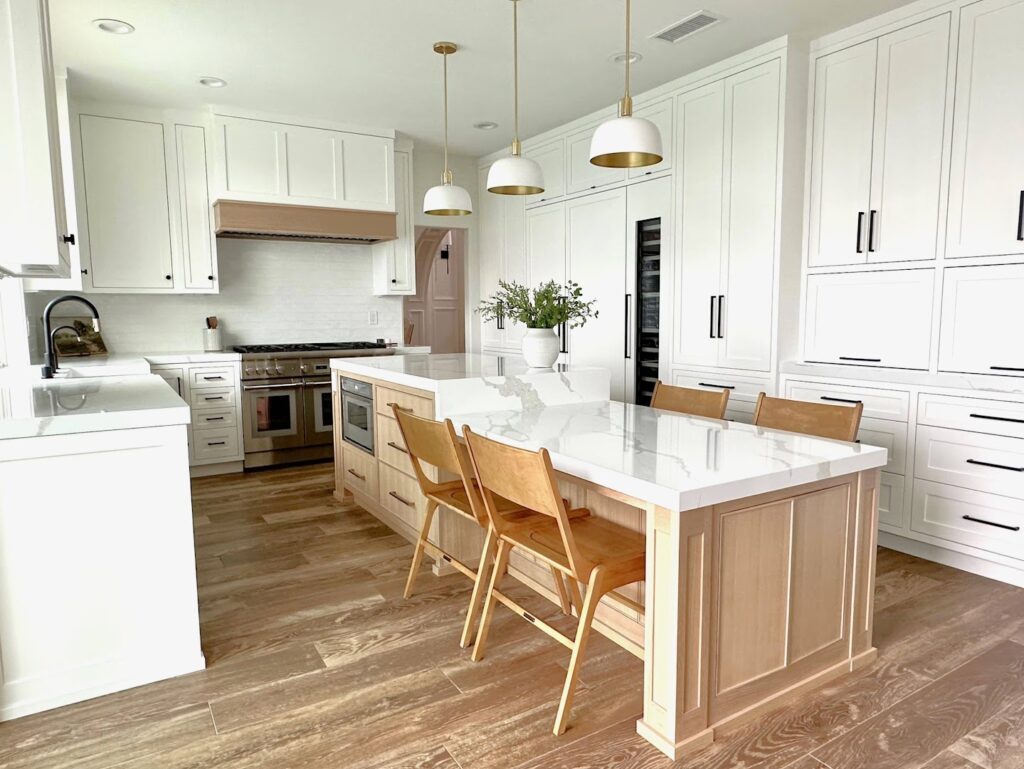 This white and natural oak kitchen remodel is a testament to the enduring beauty of classic design. We're thrilled for our clients and the memories that will be made in their new space.