The Heart of the Home: Kitchen Remodel in Fullerton, CA
The Heart of the Home: Kitchen Remodel in Fullerton, CA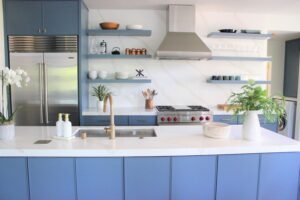 Kitchen Remodel in Fullerton
Kitchen's have evolved into much more than a space for cooking meals. It's the heart of our homes, a place where we gather, create, and connect. Our clients wanted a kitchen that blended functionality. Aesthetics to create an environment that inspires culinary creativity and fosters memorable moments.
APlus created a multi functional space that seamlessly merges with the dining and living areas. Promoting a sense of unity and togetherness. Flexible storage solutions ensure clutter-free surfaces, while ergonomic designs enhance workflow.
The aesthetic of this kitchen is a blend of modern minimalism and timeless elegance. Sleek lines, a bold color palette, and sophisticated materials create a harmonious atmosphere. The cabinets selected by these Orange County homeowners are custom to APlus; the doors are smooth with thin edging. The result is a sense of streamlined modernism.
Perhaps what is most unique about these cabinets is the beautiful shade of blue our client selected. Paired with quartz countertops continued up to the backsplash, the kitchen exudes sophistication.

Incorporating open shelves make it easy to access dishes and cookware and enhance the visual appeal to create a more open and airy feel and an opportunity to display decorative items. APlus installed lighting under the shelves to add ambiance and create a warm and inviting atmosphere and provide additional task lighting.

Kitchen Remodel in Fullerton, this kitchen redesign also integrated luxury appliances, including a Wolf free-standing gas range and cook top and a Sub-Zero French door refrigerator in stainless steel.
With its seamless integration of functionality and beauty, a kitchen is not just a place to cook, but a canvas for a fulfilling and enriching lifestyle. We're thrilled we could accomplish this for our wonderful clients.