Blending Efficiency & Elevated Aesthetic: A Kitchen Remodel with APlus
Blending Efficiency & Elevated Aesthetic: A Kitchen Remodel with APlus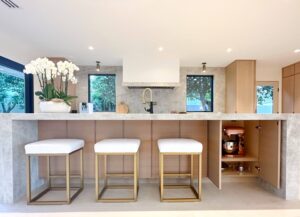 Efficiency is at the heart of every successful kitchen design. Our skilled designers prioritize ergonomics, ensuring that your new kitchen not only looks stunning but also functions seamlessly. From smart storage solutions to intuitive work zones, we optimize every square inch.
Selecting the right materials is a critical decision that sets the tone for the entire project. Our client opted for a beautiful quartzite for the countertops, waterfall island, backsplash and hood accent that exude a cohesive, timeless elegance. The white oak cabinets offer elegance and bring a sense of warmth and sophistication to the space. High-quality appliances, including a Miele range and dishwasher and a built-in panel-ready refrigerator not only elevate the kitchen's aesthetic but also enhance functionality. A combination of ambient, task, and accent lighting creates a dynamic and inviting atmosphere.
The oversized island combines storage, workspace, and social elements to create a hub for cooking, dining, and socializing. The island includes a waterfall feature and workstation sink that optimizes the utilization of space and transforms the island into an efficient and visually stunning workspace. Its multifaceted features, including cutting boards, drying racks, and built-in compartments, cater to various tasks from meal prep to clean-up.
The end result is a space that not only meets our client's practical needs and desired aesthetic, but also fuels culinary creativity. A kitchen remodel is a transformative journey, and with APlus it's a journey marked by creativity, quality, and dedication. We couldn't be happier for our client.
Design Build Modern Transitional Kitchen Remodel in Palm Springs Southern California